In a summer gone technicolor, the the neutral accessory is there to remind us that it doesn't have to be brilliant to be stylish.
This Tod's clutch (top) would look fabulous with a bright orange tunic and dark (or white) skinny jeans. Actually, I'm salivating a bit at the idea of that outfit. Of course, if Tod's is a bit out of the budget, there's also a lovely number by the budget friendly Forever 21–not quite the same look, but could be pulled off in similar styles. These clutches are $525 and $8.80 respectively.
Either of these would be great paired with a bold color. The right is by Elie Tahari via BlueFly and the left from Urban Outfitters. Pair with saucy sundresses, shorts, or linen pants…any way it's excellent. (They are $159 and $38)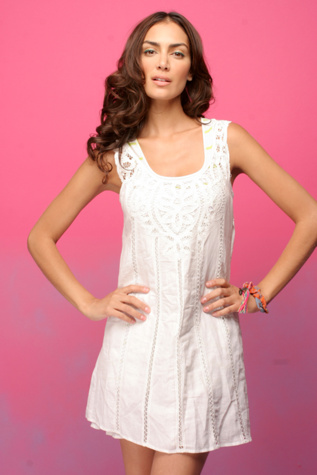 White looks killer when you have a good tan. Both dresses have a good "beachy" feel that would make any stylish Charleston lass happy. Pair these with bright gladiators and a ginormous sun hat (although perhaps not a la Samantha in Sex and the City…unless you're really daring) and flaunt yourself at Saturday brunch. The dress on the right is by Free People (did you know they're owned by the same company as Urban Outfitters?) and left is by Forever 21. (Dresses are $139 and $40)
Paired with a super skinny heavy linen pencil skirt and bold shirt (I still have orange on the mind), both of these would look divine. Play with neutrals by pairing them with a grounding color (black, navy, etc.) and a bright color (coral, orange, hot pink)…the contrast between the three is fabulous. The shoe to the right is by Via Spiga and the left is Nine West (they are $250 and $130)
A neutral eye is perfect for summer. My favorite summer eye makeup look is a touch of gold tinted base, with a swish of Clinique eyeshadow in Daybreak plus dark chocolate eyeliner. Really and effortless and neutral look that carries off well in summer. The color pictured above is by M.A.C.
Putting It Together…Pairing Neutrals With Colors
Neutral + Bright colors = instant attention grabber. Use neutrals to your advantage by letting bright colors pop against them.
xxx
Caroline